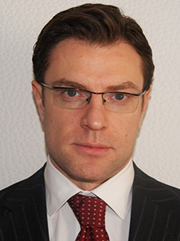 Dmitry has obtained various experience in B2B activities and project sales during his time with "Rehau Ukraine", where he held a Head of Sales, Engineering and Utility Services department positions.
Since 2011, Dmitri has worked with "Saint-Gobain Construction Products" Ltd as a Sales and Business Development Manager, specifically in the mortars department "Weber Vetonit", where he was responsible for Ukraine and Moldova. In 2014, Dmitri was relocated to Saint-Petersburg as the Regional Head of Sales for Northwest Russia.
Dmitri's activities in his previous positions were tightly linked with different sales channels, but predominantly with project sales. With a good partnership between the sales team and engineering team, a number of complex and ambitious projects were completed in Ukraine and Russia.
Dmitri brings extensive experience and a wide range of skills to his new role at Constructor. We hope that this knowledge will enable our company to improve the quality and efficiency of our work, allowing us to achieve ambitious results and develop our sales going forward.