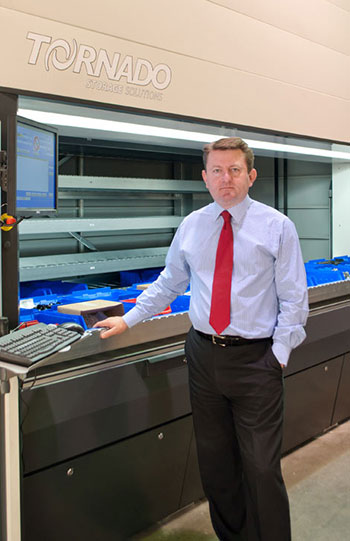 Warehouse & Logistics News – First of all, Matt, can you run through the different products and services that Dexion provides?
Dexion provides innovative and efficient commercial storage solutions designed to optimise warehousing, improve business performance and increase return on investment.
These solutions include shelving systems and small parts storage for industries with multiple components such as automotive, pharmaceutical and e-commerce fulfilment through to mezzanine flooring and mobile pallet racking for high stock turnover industries such as retail as well as heavy industrial and manufacturing companies.
In addition to manufacturing, supplying and installing the products, Dexion provides a full consultancy service to customers including warehouse planning and optimisation as well as on-going maintenance and inspections of its storage solutions.
WLN – As Managing Director, what is your role in the company day-to-day? Are you directly involved in developing solutions for customers?
As Managing Director I have responsibility for ensuring Dexion develops and delivers cost-effective and innovative warehousing solutions for our customers while achieving our business goals for profitability and growth as part of The Constructor Group.
In reality this means working closely with an established network of Dexion distributors and our own Direct Sales teams and Technical consultants to ensure they have the support they need to deliver the quality of service our customers have come to expect.
It is the sales and technical team who together develop solutions based on their extensive experience of warehouse optimisation and an in depth understanding of our customers business needs.
WLN – When was Dexion founded? Who owns it now?
Dexion was founded in 1947 and is wholly owned by The Constructor Group.
WLN – How do you sum up the Dexion proposition?
Dexion has been setting the standards for intelligent warehousing across Europe for nearly 70 years. By drawing on its experience and applying new technologies to meet the challenges of today's warehouses, Dexion is constantly finding new and innovative ways to solve specific business needs by 'thinking inside the box' for its customers. By focusing on optimising the warehouse, Dexion allows its customers to focus on their core business and think outside the box.
Thinking Inside the Box logo
WLN – Where is Dexion's key focus when it comes to products and services?
Dexion's focus is on finding the right products and services to meet the particular needs of the customer. One size doesn't fit all and not every client has the luxury of designing a warehouse from scratch, so much of what we do is to make the most of what our client's already have in place.
WLN – What sets Dexion apart? Why buy storage solutions from Dexion?
What sets Dexion apart is the way that we use our experience and new technologies, such as the C-WIS analysis tool, to thoroughly evaluate stock levels and movement and make recommendations that optimise space and storage. The rising cost of real estate has forced businesses to think very carefully about their use of space so using it efficiently and effectively can make a significant difference to their profitability and competitive advantage.
WLN – Where do you see your key markets in 2013?
The increasing pace of fulfilment and distribution driven by e-commerce and online retailing, often relating to small components and consumer durables, is forcing many industries to re-evaluate their warehousing and look for new ways to be more efficient.
Dexion's automated storage solutions can significantly improve efficiency and accuracy in picking which can make the difference between meeting a delivery deadline or missing it. The retail sector, fashion and consumer electronics in particular, have very specific needs in terms of storage, stock rotation and access. These demand specialised, often bespoke solutions designed to meet very particular customer needs. This is where Dexion's strength lies and so we see these areas as key markets this year.
WLN – What new products and developments will you be showing at IMHX?
At IMHX we'll be showing a range of products and solutions that demonstrate how we apply our experience of warehouse optimisation and 'think inside the box' for our customers to help them make real savings and improvements to their businesses.
On the automated storage front, the Tornado vertical storage machine offers safe and secure storage for small parts making it particularly suitable for a variety of industries that store and distribute multiple components and small parts. E-commerce fulfillment businesses, in particular need to pick products quickly and efficiently in order to keep up with sales orders and fast delivery schedules.
Alongside the Tornado, Dexion will also be exhibiting its mobile pallet racking. This is electronically controlled and runs on embedded rails throughout the warehouse.
Our pre galvanized shelving system, HI280, will also be on display. This shelving system is available in heights of up to 12metres and is highly adaptable to suit various environments. The HI280 shelving also comes with a large range of accessories.
Visitors to our stand will be able to see demonstrations of the Tornado vertical storage machine and mobile pallet racking in action whilst also being able to view the Hi280 shelving complete with accessories.
We will also be running regular presentations on the stand highlighting ways to improve efficiency within the warehouse by cutting costs, optimising space and saving time.
WLN – Will you be showing any specific developments from your core range?
We'll be demonstrating how the Tornado vertical storage machine can save up to 70% on floor space compared to traditional shelving, and can improve efficiency and help reduce picking errors by 60%.
We'll also be showing how mobile pallet racking can save up to 40% on floor space and can increase storage capacity by up to 80%.
WLN – What else is new at IMHX?
We'll be demonstrating just how easy and efficient the automated Tornado vertical storage solution is to use by stocking it with components for a model car. Visitors can use the machine to pick the appropriate parts and then build the model themselves on the stand!
WLN – How important are shows like IMHX to your company and its strategy?
The most important benefit of these shows is the opportunity they create to get direct feedback from the market. By having products and solutions on the stand, customers can see first hand how they can help improve warehouse efficiency. By understanding their needs better, we can ensure our products continue to develop and innovate and we are able to continue to set the standard for warehouse optimisation.
WLN – The big question: why should a busy professional from the logistics industry take a day out of the office to visit your stand?
Our stand will be manned by experienced technical consultants with a wealth of knowledge of how warehouses can be optimised and run more efficiently. Anyone visiting our stand will gain valuable advice on how they can save money, space and time and improve the efficiency of their warehouse.
WLN – With the greater emphasis on storage machines, what special features does your product have? Will they be on show at IMHX?
Thanks to its ingenious lifting device, the servo-operated Tornado automated storage system is rapid, energy-efficient and silent. It is also easy to tailor to individual customer's needs.
Tornado offers safe and secure storage for small part handling as the system's intelligent engine attempts to place active trays close to the retrieval point. This makes the Tornado system especially useful for seasonal products. Tornado also has password-protected access levels for added security.
The Tornado's speed, both horizontally and vertically, offers rapid storage and retrieval and can also have password-protected access to ensure the safe keeping of valuable items. The clear and straightforward structure makes the system extremely reliable and therefore cheap to maintain.
WLN – Looking at the wider picture, what do you see as the biggest pressures on warehouse managers?
Warehouse managers, like all areas of the business these days are under increasing pressure to cut costs and improve efficiency. They need tangible evidence that they will see a return on their investment in any new storage solutions. Added to this, they need to ensure their storage facilities comply with the latest standards and legislation and can be maintained easily and efficiently.
WLN – Finally, where do you see the UK warehousing market and Dexion going from here?
Organisations are demanding more for less so getting it right in the first place is vital. With its reputation for quality and reliability and its focus on innovation and efficiency, Dexion is ideally placed to help them choose racking and storage solutions that can automate processes with the supply chain, enhance operations and help them deliver even better customer service. We see a great future ahead, both for us and our customers.