Customer: Van Heugten Transport B.V.
Location: Scherpenzeel, The Netherlands
Products supplied: Mobile Pallet racking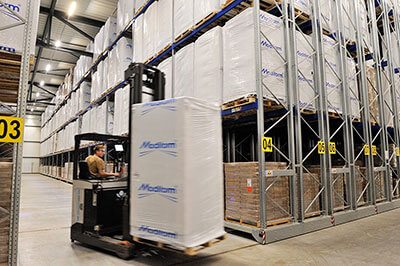 Since 1950, Van Heugten Transport has grown into an international logistics service provider with daily transport throughout Western Europe. In addition, Van Heugten Transport also has several warehouses.
The requirement
Due to enormous company growth, Van Heugten Transport decided to build a new head office, complete with a warehouse.
For the design of this new space, Van Heugten wanted to achieve the maximum capacity within the available square footage, for the stock of two of their largest customers. The pallets also had to be individually approachable.
The solution
Van Heugten Transport were already familiar with the quality of various Dexion products. Because of the trust in Dexion, the team were appointed to create the most efficient solution and design for the new warehouse.
Van Heugten Transport decided that mobile pallet racking best suited their storage needs.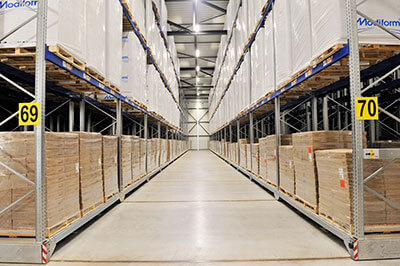 After all, mobile pallet racking only requires one aisle and all pallets are individually accessible. The pallet racks reach almost full ceiling height, so in addition to the floor space, the height of the building is also optimally utilized.
As Van Heugten Transport work with euro pallets and block pallets, a beam with a length of 3,600 mm was implemented. A 3,600 mm beam can be used for the storage of 3 block pallets or 4 euro pallets. This ensures, there is no loss of space on the beam levels.
The beams are blue in colour, matching the corporate identity of Van Heugten Transport. On the lower level, mesh boards are in place, so pallets with smaller dimensions than a block or euro pallet can also be stored.
Opting for mobile pallet racks ensured Van Heugten Transport 91% more storage capacity, when compared to the traditional static pallet racks using a reach truck (47% when using a VNA truck).
The warehouse is divided into 3 compartments of 2,400 m2, 2,255 m2 and 2,400 m2. Each compartment has one aisle, resulting in a total of 19,712 euro pallets or 14,784 block pallets.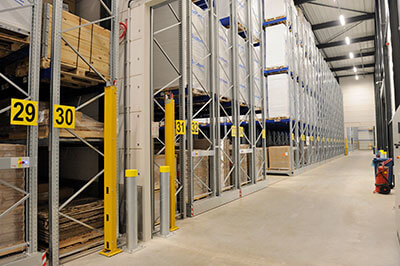 The result
Van Heugten Transport has also chosen Dexion for the design of the new building. With the mobile pallet racks (also called MOVO) in combination with beams of 3,600 mm, this resulted in maximized storage capacity in the new warehouse halls.
About Van Heugten Transport
Since 1950, Van Heugten Transport, operating from central Netherlands, has grown into an international logistics service provider.
Van Heugten Transport provides daily transport from Scherpenzeel (Gelderland) to and from France, England, Germany, Denmark and Austria. They also have a storage and transshipment space where customers can outsource their entire inventory management.