Case Study Overview
Customer: DF/Bauhaus
Location: Denmark
Products/services used: TORNADO Storage Machine
Business need
Bauhaus had appointed Danish Fragtmænd (DF) to take over the running of their Danish online shop. The reason for this is that the company wanted to offer next day deliveries, which their current 3PL provider was unable to achieve.
However, moving the stock from the old provider to their new home at DF premises was a mammoth task. There were over 7500 separate lines of varying shapes and sizes to move and a backlog of orders to fulfil, which grew daily as the online shop remained fully operational throughout the transition.
After six days and 65 trucks, the move was complete and Danish Bauhaus's online customers began receiving their promised next day deliveries.
With the Danish operation up and running successfully, Bauhaus commissioned DF to move their central warehouse which feeds 18 stores in Denmark, Norway and Iceland. In addition Bauhaus asked DF to take on responsibility for their online Norwegian shop which holds over 11,000 lines. Due to the scale and complexity of the operations, DF decided they needed to call in the experts and invited Constructor to a brainstorming meeting.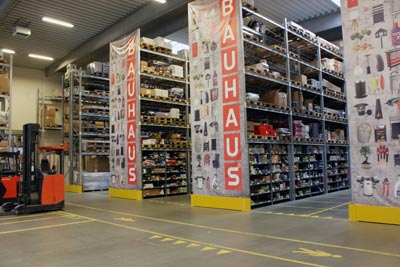 Constructor solution
Constructor has a wealth of experience of working with clients in the ecommerce sector. They know that each situation needs an individual solution to maximise efficiency. Having studied the requirements of the central warehouse they knew that picking trucks and handheld scanners were the way forward, with Constructor's TORNADO storage machine for online orders.
The capacity of a TORNADO is approx. 3000 boxes, with the machine holding 183 trays in total.
Each tray can be configured with a different number of compartments for storing different articles.
The result
"We chose the racking and the Tornado storage machine from Constructor because their products are high quality. Constructor is not the cheapest on the market, but they are definitely the best. They are innovative in their way of thinking, and they accept that a project may lead to nothing. To us, they are more like a partner than a supplier." - Calle Nicolaisen Project Manager.
Next day orders are now being fulfilled. The inductive picking trucks and the TORNADO have enabled DF to significantly increase the pick rate, taking it from an average of 1.2 item lines per order to 3.5 item lines per order, which came in useful when DF received over 1,100 orders on Black Friday alone.
About DF
Danish Fragtmænd has been providing transport and logistics solutions for over 100 years. Today they have become a major operation with impressive numbers:
3,000 employees
1,600 trucks
8.8m shipments annually
24 cargo terminals
27 warehouses
40,000 business customers