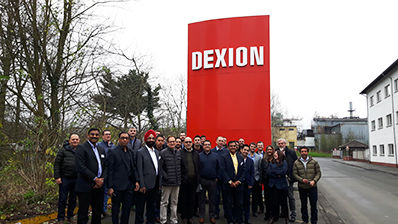 After all Dexion is a well-known and respected brand with many installations across Europe. However it was sheer breadth of interest from participants from all over the world that confirmed Dexion's global reach and reputation.
Participants from 16 countries from as far afield as Mexico and Chile, Dubai, Oman and Kuwait as well as India and Trinidad joined European delegates at the event which was held in November.
The 23 participants were able to update their product knowledge, exchange experiences, tour the factory and meet key members of the Dexion team over the two days.
Matt Grierson, Head of Export was delighted with the result. "The conference was a great networking opportunity. The dealers learnt a lot about our latest products and we gained invaluable insight into how we could improve our support to them. This is the first conference we had held specifically for export dealers in 10 years and we won't be waiting for another 10 years for the next."