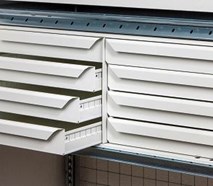 Drawer Nest
Is a build-up nest with 8 or 12 drawers that can be easily inserted inside a shelf compartment. The drawers can be sub-divided front to back.
When drawers are placed on a shelf, it is important that the shelf is secured with either two lateral drawer guide rails or with 4 shelf brackets. This prevents the shelf from tilting when the drawer is
pulled out.
The guide rails / shelf brackets must be fixed with rivets.
Sizes:
L=500xW=313xH=9
L=500xW=156xH=99
Material: Steel
Finish: Painted Grey / White RAL 9002
The drawer nests are used to store small items into the drawers.
Additional Accessories
Drawer Divider
If required, the items being stored can be segregated with the use of dividers. These dividers are 97mm high and available for each size of drawer. Their position is adjustable front to back on a 33mm pitch.
Drawer Stop
A drawer stop can be fitted to the front of a shelf that supports drawers.
The small upstand on the section helps locate the drawers within the confines of the shelf. This is particularly useful in applications such a 'ship shelving and cabinets' or within 'mobile shelving'.
Drawer Side Guide and Shelf Lock
This component provides two functions; firstly it acts as a side guide for the shelf drawers so that they don't get stuck behind the uprights, and secondly they can be used to lock the shelf in position should it be necessary, such as within 'ship shelving'. Two guides are used per shelf.
A folded steel strip 95mm high, 436mm long and 20mm wide, with two holes at both ends. The spacing of these holes ensures that one hole at either end will always line up with a corresponding hole in the upright web.
Shelf Lock
Used to secure the corner of the shelf in position to prevent it lifting.
Each shelf is fitted with 4 locks. By locking the back corners of the shelf, the beams are also locked into position.
Used on shelves that are directly above a shelf supporting drawers.