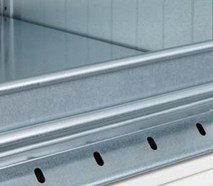 Bin Front
The bin front can be fitted to the front or back of a shelf to prevent items falling from the shelf. They can be stacked on top of each other.
It fits inside the flanges on the uprights and is secured on the hooks on the upright web.
The bin front is NOT a structural component.
Height: Standard height of 50mm
Length: To suit the three standard bay lengths of 900, 1000 and 1290 mm
Material: 1.0 mm thick pre-galvanised steel
Finish: pre-galvanised