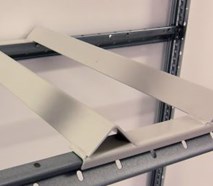 Barrel Support
Small barrels are often placed on barrel supports in a HI280 Mediumspan or short span bay to allow tapping.
In order to avoid spill on te floor a Drip tray is recommended, to cover the free entry between the shelving uprights.
Maximum barrel diameter is 380mm.
The number of barrel supports per pair of beams will depend on beam length, starting with 2 for bay width 900mm.