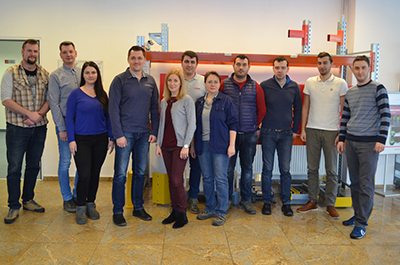 The rigorous 6 Sigma training provides skills and techniques to work with a structured and data driven approach towards process improvement.
The new recipients of the Green Belt proficiency certification make up a cross function group ranging from Production, Quality, Logistics, Sales Administration etc to ensure a cross functional approach to improvement in Dexion Romania manufacturing and business processes.
Brian Howson, General Manager for Dexion Storage Solutions stated that he is proud that the employees have successfully completed their training: "We, as a company, are employing 6 Sigma as a structured improvement methodology, to help improve customer experience, lowering costs, and improving quality. Having more people skilled in the employment of this technique will help us achieve sustained quality and process Improvement."


Dexion Romania already employs 61 Yellow Belt and 12 Green Belt recipients together with the team of 11 newly rewarded Green Belts. "We will continue to train more of our staff to 6 Sigma Yellow and Green belt level in 2018 to create a wide group of skilled problem solvers within the company" concluded Mr. Howson.